Lighting is a very complex discipline spread across many medias, not just restricted to games. Art, theatre, film and games are just some mediums that highlight the importance of lighting, and lighting alone could be the focus of an entire research project due to all that goes into it. However, as this project is looking at the overall elements that go into building a successful horror level for a game, we will try and narrow down specific points and analyse them.
Creating effective lighting
Before looking into other aspects (Such as guiding a player with lighting), it is important to understand how to create a level with "nice" (Or effective) lighting. Lighting can make or break environments, and is one of the most important tools available to a designer to set the mood of a scene.
Light sources
More often than not, to create a believable environment (To create a more immersive experience for the player) one of the key elements is for a light to always have a light source. To demonstrate this, I've created two test scenes in Fallout: New Vegas' editor, the Garden of Eden Creation Kit (Developed by Bethesda Game Studios and Obsidian Entertainment), using exactly the same pieces and the same shape, except one has light sources: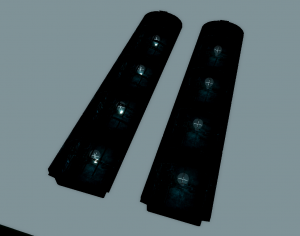 (Screenshot from within the editor)
And the same scene rendered in real time within the engine:
Colour variation
We have lights and light sources, however the scene is still rather bland. Having the same colour light throughout results in a repetitive level and could lead to the player becoming bored, or end up hiding important details in the level. With this in mind, mixing colours throughout a level is a fantastic way to draw attention to specific areas, or simply create a more engaging environment. Equally, however, you need to take care not to "overdo" it, as too much colour could result in a lack of cohesion and result in a jarring scene.
I went ahead and created two variations based on the previous environment, with different lighting setups. I presented the image to various people and asked: "Which scene do you feel presents the best lighting?"
The majority preferred B (As expected), with C being second and A being third. However, a very good point was made about A. One person stated that were the lights slightly brighter in A, they'd prefer that, as the alternating lights didn't seem realistic and in fact went as far as breaking potential immersion. Expanding on this, it seems that the lights must serve some sort of (perceived) purpose in the scene as opposed to just being placed, such as complimenting props.
Thanks to the following articles for providing valuable insight:
http://www.moddb.com/tutorials/lighting-in-game-environments-the-hows-and-whys
https://www.smu.edu/~/media/Site/guildhall/Documents/Theses/Brownmiller_Thesis.ashx?la=en